Come, create and play with Beads
This is a day to give to yourself for those of you who give so much to others.
For anyone who is stressed and overworked, who wants to rejuvenate themselves and get immersed in the creative process in the company of others within a small group.  
This is not your usual self-care day, it's a day to care for yourself without thinking of work or outcome, but to let go a little - let the creative process take over as you immerse yourself to see what emerges when you let yourself play.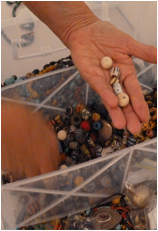 Come and join us to have fun, rummage in bead boxes and find treasures to create something fun and beautiful for yourself or for someone else.
The beads in my collection have been given to me and come from as far as India, Tibet, Africa and Asia and other places, some have been used as trading beads, some for decoration and adornment.
You will see – the beads are in a wide range of materials, colours and patterns.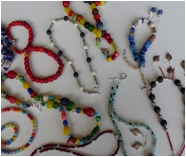 Adornment is part of ancient practice and has been used by humans since the earliest of times.
The making of beads and using them for decorating the human body in various styles, is an expression of tribal and cultural belonging and since the earliest human times has been used to express ourselves creatively and "show ourselves up in the best way we can," creating self-value and self-esteem.
We will do some relaxing meditative exercises to bring us into the "here and now" and help us focus on the moment.
The day will be about creating necklaces with matching earrings or bracelets or a creation of your choice with beads.
You will be able to take two creations home with you at the end of the day (included in the price of the day). Any further creations are at an additional price.
Date and Time: Saturday 14 May 10 am -3 pm
Fee: 150.00 (2 bead creations), Morning Tea and Lunch included)
Address:  Juliette street Holland Park
Participant numbers are limited
Contact Silvia Camastral